In 1910, young timber baron Bill Boeing came out of the woods and went to America's first Great Air Meet at Dominguez Hills near Los Angeles. Although we're not sure what motivated that trip, we do know Bill came home inspired. In 1915, he learned to fly and purchased a Martin T-2 hydro Aeroplane, setting up a tent hangar on the shores of Lake Washington.
Promotional poster for the 1910 Air Meet. (Image Courtesy of California State University, Dominguez Hills Archives)
Oregon Trail pioneer Ezra Meeker traveled by oxcart from New York to witness the Air Meet. (USC Libraries Special Collections)
Louis Paulhan flying near a hot-air balloon in his Henry Farman biplane. (USC Special Collection)
Glen Curtiss wows the crowd at Dominguez Field. (UCLA. Los Angeles Times Photographic Archive. Department of Special Collections, Charles E. Young Research Library, UCLA)
Everett pilot, Terah Maroney, gave Bill his first airplane ride. (Everett Public Library)
Maroney with his Curtiss Hydroplane. (Everett Public Library)
A 1914 Martin T tractor biplane.
The B&W is pulled up ramp at the Lake Union seaplane hangar. (The Museum of Flight)
Conrad Westervelt (The Museum of Flight)
Eddie Hubbard and William Boeing with the Boeing Model C following completion of the first international airmail flight, March 3, 1919. (Boeing Archives)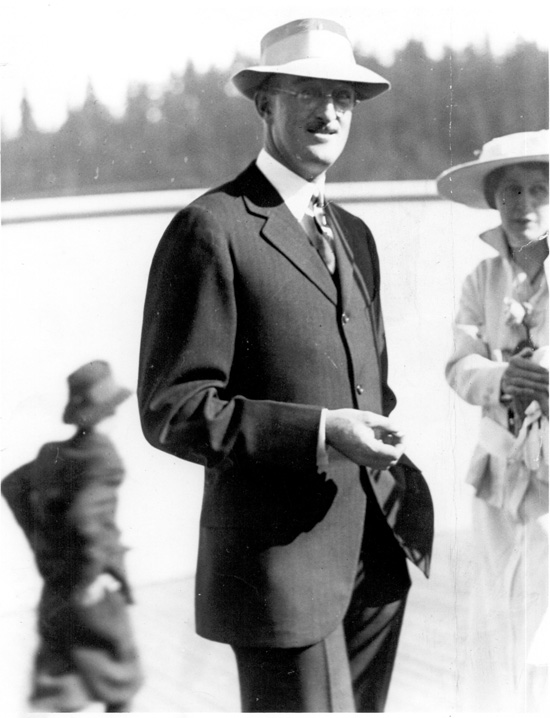 A sharply attired Bill poses for the camera. (San Diego Air & Space Museum)
Being a well-to-do, young businessman-about-town, Bill became a member of the Rainier Club, where he met a like-minded aviation enthusiast—Naval officer Conrad Westervelt. They both quickly came to the conclusion that the Martin T-2 had shortcomings, and they felt that they could do better. Thus was born Boeing's first airplane, the B & W, short for Boeing and Westervelt.
The Boeing Company's original manufacturing plant as it appeared in 1917. (The Museum of Flight)
A Boeing 80A in Burbank, California (Museum of Flight)
The Boeing P-26 "Peashooter" helped usher in the era of all metal monoplane aircraft design in the 1930s. (San Diego Air & Space Museum)
The Boeing 247 introduced many innovation we now take for granted like retractable landing gear and fully cantilevered wings. (San Diego Air & Space Museum)
The massive Boeing 314 flying boat was an icon of the Golden Age of passenger flight. (Library of Congress)
The Boeing B-17 Flying Fortress was a mainstay of American air power during WWII. (National Archives)
First flown in 1952, the B-52 has surpassed sixty years of continuous service and is expected to serve into the 2040s. (San Diego Air & Space Museum)
The Dash 80 flies over the Olympic Penninsula on its way to the Smithsonian in 2003 (Joe Parke)
Boeing has built over 8,960 737's since the first one rolled off the line in 1966. As of 2006, there were an average of 1,250 Boeing 737's airborne at any given time, with two departing or landing somewhere every five seconds. (Boeing)
The rollout of the prototype 747 in 1969. (Boeing Archives)
Past and Present. The prototype 787 flies formation with the Addison Pemberton's Model 40. This Model 40 is the oldest airworthy Boeing aircraft. (Boeing Images)
Boeing's first company—Pacific Aero Products—was established July 15, 1916. However, it was re-organized the following year as The Boeing Company. While Bill, as entrepreneur and visionary, was with the company but a short 18 years, under the guidance of many great and talented leaders and engineers the company he started has become today one of the longest surviving and successful aircraft companies in the world. The Boeing Company has not only set new standards in technology and manufacturing, but has actually contributed to the very vocabulary of aviation history.